Holidaymakers are being urged not to jet off to amber list countries, including Spain.
Business minister Anne-Marie Trevelyan said scientists still think there is "too great a risk" in travelling to amber list countries for non-urgent reasons such as holidays.
However, Spain's tourism minister said the country was in a good place and he was sure it would make the UK's green list when a review is carried out in the first week of June.
Spain has officially lifted restrictions for UK travellers from Monday, with visitors no longer needing to take a PCR Covid-19 test.
Tourists going to Spain will still have to quarantine on their return under UK rules.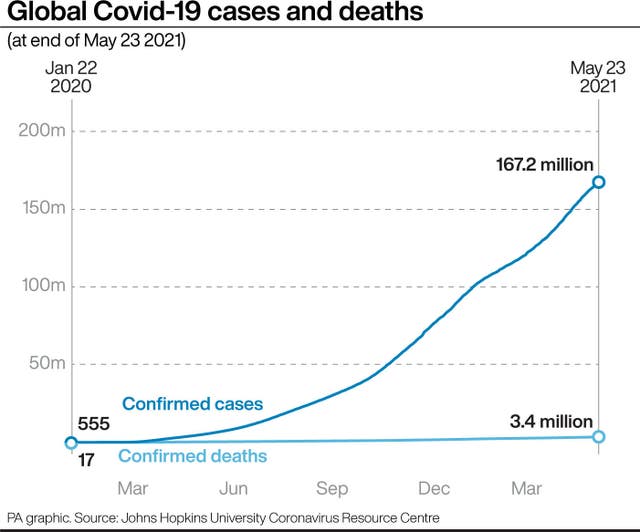 Mrs Trevelyan told Times Radio: "The reality is, at the moment, amber countries are still not meeting the criteria for our scientists to say that they should be green.
"So the recommendation remains don't go unless you have to, and remember that, if you do go, you will have to quarantine for 10 days and that will be monitored.
"The reason we ask people still not to go is because there is still too great a risk as far as our scientists are concerned."
Mrs Trevelyan said the Prime Minister "has been clear" that people should not travel to amber countries unless there is a pressing reason, such as an urgent family need.
England is "still trying to slowly move through our road map to being able to open up on June 21 and we want to do that in a steady and careful way," she told Sky News.
Mrs Trevelyan said it is hoped that "the amber numbers will become more green in due course" but "at the moment, today, that means amber countries really aren't safe to go to".
However, Fernando Valdes, Spain's tourism minister, told Sky News that Spain could be added to the green list during the next UK Government review of travel restrictions.
He said: "What I can say is that right now Spain is doing a great effort not only in terms of vaccination, we have at least one third of our whole population with at least one dose… but also, we do have some holiday destinations which are very loved by British tourists such as the Balearic islands, Costa Blanca or Malaga, with our notification rates which are pretty low and by the same notification range of the UK, so I have to suspect that on the next review that the UK Government can provide… Spain is going to change on its notification."
Paul Charles, chief executive of travel consultancy The PC Agency, told the PA news agency there were many people who could "safely and responsibly travel to an amber country" to see family, to do business or to visit a second property.
"It's vital consumers are aware that they will have to pay for tests and self-isolate on their return to the UK but it is safe to travel out to an amber country and not illegal in any way whatsoever," he said.
"The travel sector is fighting to recover and needs to see more countries added to the Government green list."