Defence Secretary Sir Michael Fallon said it was "very important to link trade and security" in the negotiations with the European Union (EU) over the UK's future deal with the bloc.
Sir Michael said he was proud of the link and insisted the UK would go on "playing our part" in the security of the continent, but stressed some elements of that co-operation would require a new deal.
He claimed it was not a "bargaining process" but all sides would be "worse off" if there was not a deal.
Leaked minutes of a Cabinet committee meeting revealed the extensive discussions about how the UK's security and defence expertise could be used to help secure a deal with Brussels.
The Sunday Telegraph reported ministers identified the UK's "very strong hand" on defence as a key advantage in the talks.
Downing Street has insisted the reference in Theresa May's Article 50 notification letter to security, warning that co-operation would be "weakened" if there was not a deal, was not a threat but a simple statement of facts.
Sir Michael told BBC One's Andrew Marr Show: "It's very important to link trade and security because what we are now looking for is a deep and special partnership that covers both economic and security co-operation. Those two things go together."
Asked if failure to secure a deal would make the EU less secure, he said: "We would all be worse-off it there wasn't a deal. We are expecting to have a deal.
"Obviously, we co-operate with Europe on security, not just through Nato – we co-operate through work our police forces do, our security agencies do, through our judicial systems. Some of that is inside the European treaties, some of it is outside.
"But obviously the bits that are inside the European treaties we need to make sure that co-operation continues, because Europe faces threats – not just from Russian aggression but, as we have seen in recent weeks, from terrorism as well."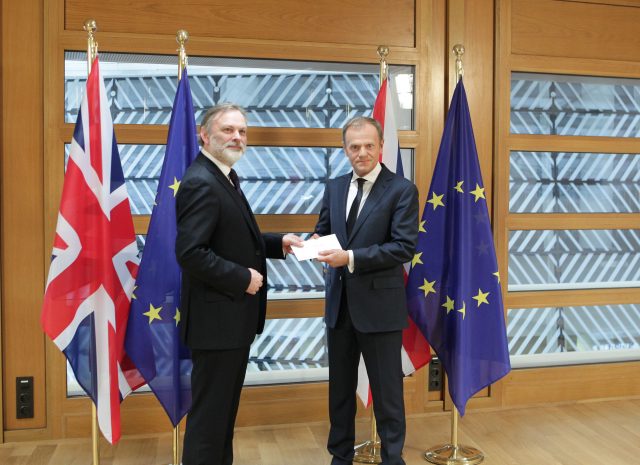 Asked about the Sunday Telegraph report, he said: "I'm not going to get into what happened at what meeting, but it is a fact that we have the biggest defence budget in Europe, we are a leading player inside Nato."
A source quoted in the newspaper said: "I think the absolute view around the table was we are in a very strong position and the Europeans know it. We go into these negotiations with security and defence being a big thing in our corner."
In her letter to Mr Tusk, Mrs May had warned: "Europe's security is more fragile today than at any time since the end of the Cold War. Weakening our co-operation for the prosperity and protection of our citizens would be a costly mistake."
Pressed on whether free movement could still be happening and the UK could still be subject to the European Court of Justice at the time of the next election, he said: "No, we have made it clear that we are leaving the European Union, we are leaving the single market, we are leaving the customs union and we will no longer be under the ambit of the European Court of Justice."