The Prime Minister is facing questions from MPs over her "inadequate" response to a petition calling for a shake-up of the Grenfell Tower public inquiry.
Theresa May was accused of failing to express "any concern" for the suffering of survivors and bereaved families when she rejected their campaign last year.
Those touched by the tragedy had asked for a diverse panel to be appointed to the probe amid diminishing confidence in current chairman Sir Martin Moore-Bick.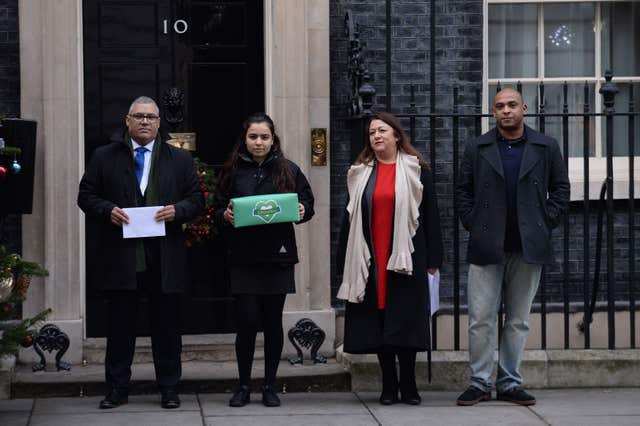 It was turned down in December by Mrs May, who feared the inquiry's work would be hindered by any overhaul.
The Petitions Committee, which oversees petitions sent to the Government, said it would be seeking clarity from Mrs May over apparent contradictions in her answer.
Emma Dent Coad, Labour MP for Kensington, shared a picture of the letter she received from Helen Jones, chairwoman of the Petitions Committee, on Twitter.
It said: "I hope your constituents will be reassured to hear that the Petitions Committee agrees with them that the Government's response to their petition was inadequate.
"We have written to the Government to ask for a better response.
"The Committee was concerned that the response did not set out the Government's position clearly, saying first that the Prime Minister would consider the question of additional panel members, but then saying that she had decided that no additional appointments should be made.
"We were also disappointed that the response failed to acknowledge that the petition had been started by bereaved families and survivors, or to express any concern for their suffering and loss."
It added that it would publish a response from the Government once it received a "satisfactory" answer.
The Petitions Committee is a cross-party group of 11 MPs.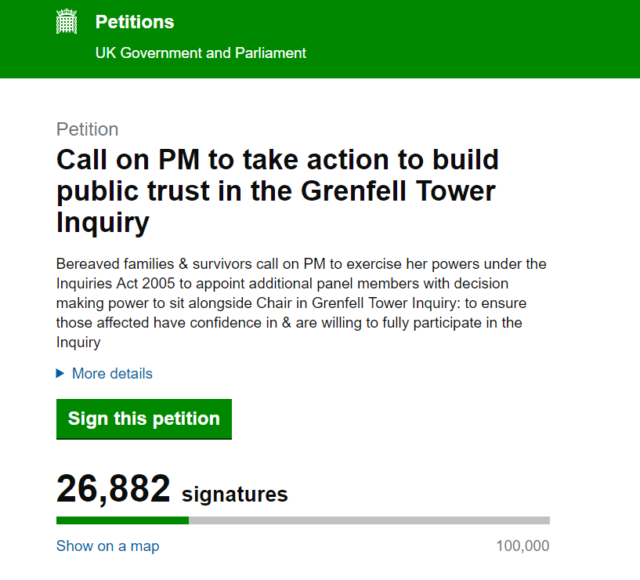 The petition, titled "Call on PM to take action to build public trust in the Grenfell Tower Inquiry", has so far garnered more than 26,000 signatures and won high-profile supporters including Adele.
Any changes to the inquiry top team would risk stalling the progress of Sir Martin, who is eager to publish an interim report into the causes of the blaze – which left 71 dead – later this year.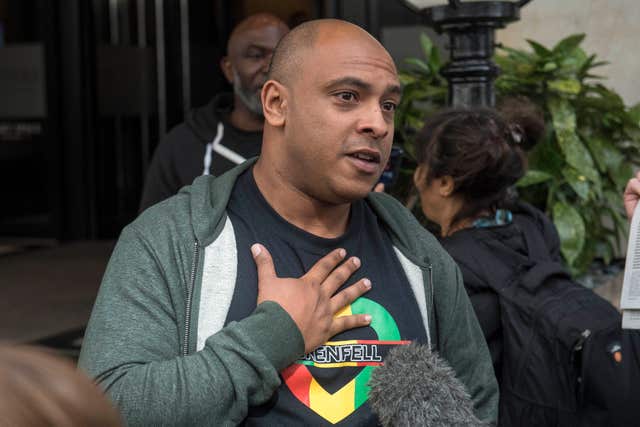 Karim Mussilhy, whose lost his uncle in the fire and helped launch the campaign, said: "We welcome the Petitions Committee's agreement that the Prime Minister's response before Christmas to our petition was inadequate and failed to even acknowledge (that) concerns are being raised by bereaved families and survivors.
"After the failure to implement the findings of the Lakanal House inquiry, the bereaved families are understandably concerned to make sure that the Grenfell Tower Inquiry will undercover the truth and lead to action.
"We strongly believe an independent expert panel is the best way to do that and will ensure public and victim confidence in the inquiry.
"We continue to press our goal of 100k signatures, to secure a debate in Parliament."