Protesters against a controversial deal to cut down trees in Sheffield occupied the city council chamber for around five hours.
A group of about 20 "frustrated" people got on to the floor of the chamber from the public gallery at the end of a council meeting which finished at around 8.30pm on Wednesday.
They stayed until around 1.30am then came to an agreement with security guards to end the protest and leave.
Councillors had been questioned over a £2.2 billion private finance initiative deal with the contractor Amey, part of which includes plans to remove trees from Sheffield streets.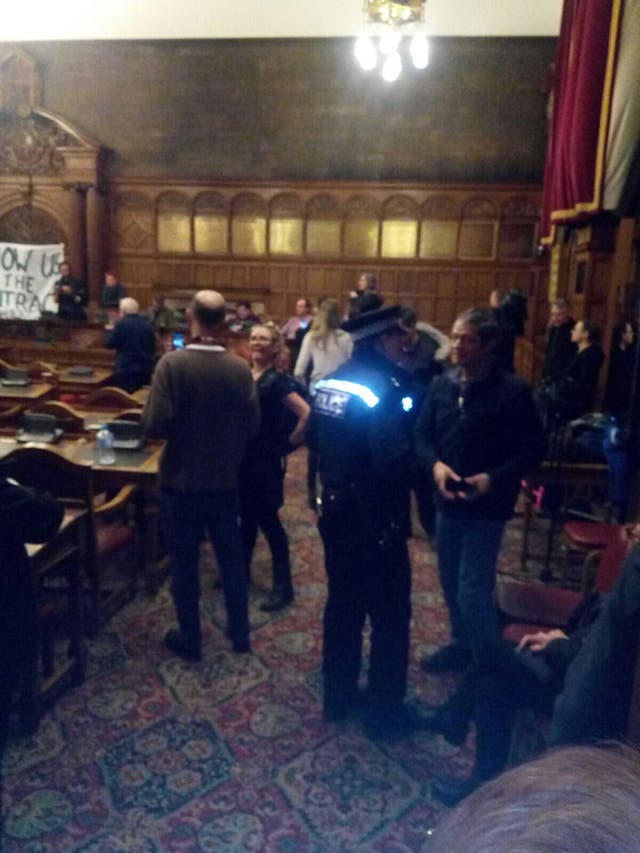 Roger Doonan, an archaeology lecturer, said: "What I saw was a disorganised group, very frustrated by the lack of protest in the council chamber.
"The frustration bubbled up and they drifted into the council chamber.
"The protest has brought a lot of attention and the more attention that is brought to bear on a £2.2 billion deal the better."
Police were called to the building and negotiated with the occupiers who insisted it would be peaceful and there would be no damage.
Supporters of Sheffield Tree Action Groups (Stag) held aloft a banner saying "Show us the contract please" – a reference to the Amey deal.
The ongoing and long-running row over Sheffield's street trees has seen daily demonstrations in some of the city's leafiest suburbs.
The dispute has its origin in a 25-year PFI deal the council signed with Amey in 2009.
The contract includes a huge programme to resurface miles of Sheffield's pothole-ridden road system and, as part of this, Amey is tasked with maintaining roadside trees.
The council says only a small proportion of the city's 36,000 street trees are being removed because they are diseased or dangerous, and all are being replaced.
But protesters say many of the trees are being felled because their roots are getting in the way of the resurfacing methods used by Amey.