A pause has been announced in the controversial tree-felling programme which has led to daily confrontations between protesters and contractors on some of Sheffield's leafiest streets.
The long-running dispute over the cutting down of thousands of street trees has intensified in recent weeks with dozens of police deployed in some of the city's suburbs and a number of people being arrested.
In a statement on Monday, Sheffield City Council said the vast majority of the work will be stopped until a review is completed by the contractors, Amey.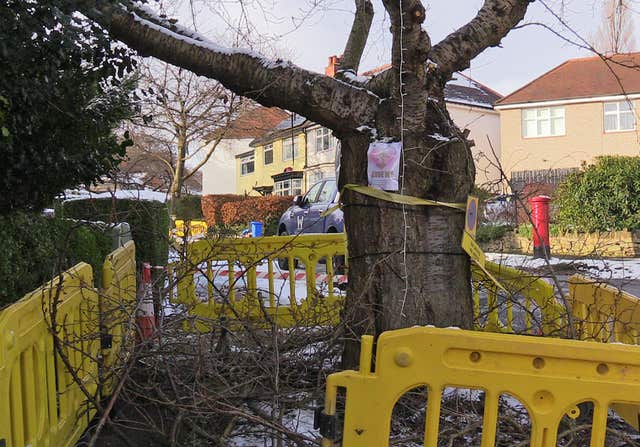 The council said: "Since 2012 we have been carrying out the biggest investment Sheffield's highway network has ever seen, resurfacing the majority of roads and pavements across the city.
"However, in the past year or so the actions of a handful of people unlawfully entering the safety zones where tree replacement work is being carried out has meant that it has become increasingly difficult for Amey to complete the programme without danger to staff and members of the public.
"Given the increasingly dangerous tactics that have been seen in recent months, Amey have had to employ security staff at tree replacement sites.
"In the interests of both residents and staff, Amey are exploring options for completing the work and will present these options to the council. During this review period, only trees which are dangerous will be worked on.
"Any necessary emergency work will continue to be carried out in this time and the wider programme will resume once this review is complete."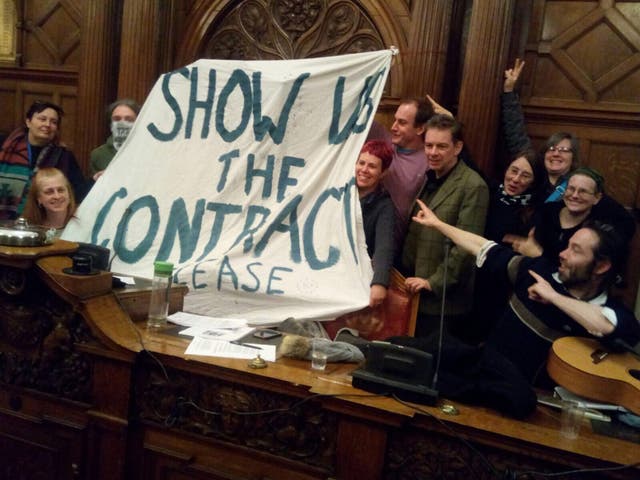 The dispute surrounds a 25-year £2.2 billion private finance initiative agreement the council signed with Amey in 2009.
The contract includes a huge programme to resurface thousands of miles of Sheffield's pothole-ridden road system and, as part of this, Amey is tasked with maintaining roadside trees.
The council says only a small proportion of the city's 36,000 street trees are being removed because they are diseased or dangerous, but protesters say many of the trees are being felled simply because their roots are getting in the way of resurfacing methods.
Earlier this month, the council released previously redacted details of the contract at the heart of the dispute which campaigners said showed that 17,500 trees would be earmarked for destruction.
Council leaders said that figure was only a contingency, and not a target, with the likely end total being a maximum of 10,000.
Chaotic scenes continued last week as protesters clashed with police as well as private security staff employed by Amey.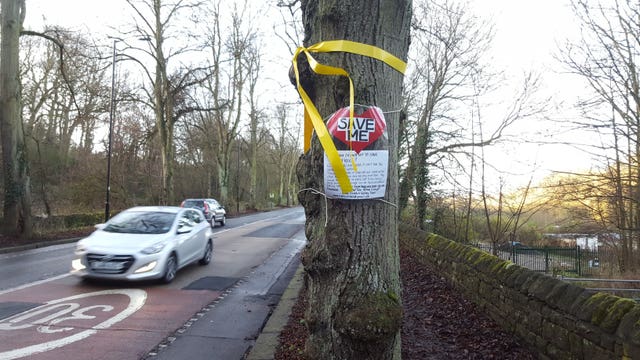 A number of people were arrested including a 57-year-old woman who was detained in the suburban setting of Rivelin Valley Road for blowing a toy trumpet.
Last year, the council secured an injunction banning protesters from encroaching behind barriers erected by contractors.
Green Party co-leader Caroline Lucas said on Twitter: "Hugely welcome news. The mindless chopping down of these trees isn't just environmental vandalism – it's hugely unpopular and utterly unnecessary too. Congrats to all the campaigners."