Hurricane Michael has strengthened into a Category 2 storm with top wind speeds of 100mph as it continues towards northern Florida.
The storm is moving north-north-west over the southern Gulf of Mexico, and mandatory evacuations are in effect along much of Florida's northern Gulf Coast, stretching from the Panhandle into the area known as the Big Bend.
Michael is forecast to hit the Florida coast on Wednesday before moving over Alabama, Georgia and the Carolinas on Wednesday night and Thursday.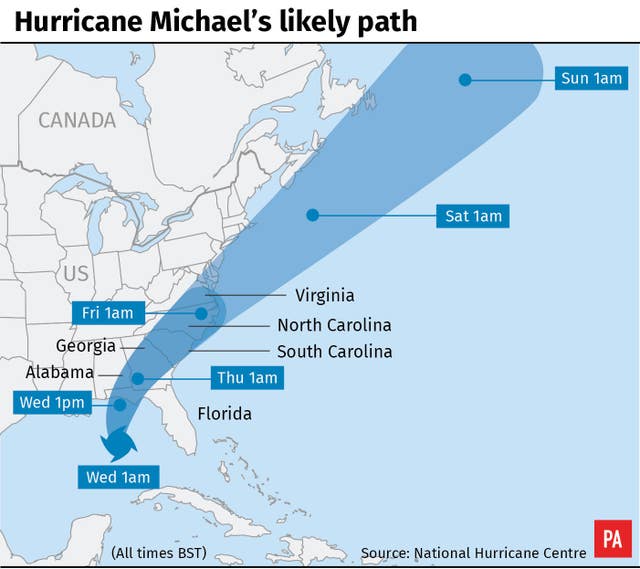 Mandatory evacuation orders came into effect on Tuesday morning for 120,000 people in Panama City Beach and across other low-lying parts of the coast.
Parts of Florida's marshy, lightly populated Big Bend area could see up to 12ft of storm surge, while Michael also could dump up to 1ft of rain over some Panhandle communities as it moves inland, forecasters said.
"People need to start leaving now," Sheriff Tommy Ford told an emergency meeting on Monday night. He said people will "not be dragged out of their homes", but anyone who stays behind will be on their own once the storm hits.
Forecasters warned that Michael could dump 1ft of rain in western Cuba, triggering flash floods and mudslides in mountainous areas.
Disaster agencies in El Salvador, Honduras and Nicaragua reported 13 deaths as roofs collapsed and residents were carried away by swollen rivers.
Six people died in Honduras, four in Nicaragua and three in El Salvador. Authorities were also searching for a boy swept away by a river in Guatemala.
Most of the rain was blamed on a low-pressure system off the Pacific coast, but Hurricane Michael in the Caribbean could have also contributed.
Florida governor Rick Scott called Michael a "monstrous hurricane" with devastating potential from high winds, storm surge and heavy rains.
He declared a state of emergency for 35 counties, from the Panhandle to Tampa Bay, activated hundreds of Florida National Guard members and waived tolls to encourage evacuations.
He also warned carers at north Florida hospitals and nursing homes to do all possible to assure the safety of the elderly and infirm. Following Hurricane Irma last year, 14 people died when a South Florida nursing home lost power and air conditioning.
"If you're responsible for a patient, you're responsible for the patient. Take care of them," he said.
Escambia County Sheriff David Morgan bluntly advised residents choosing to ride it out that first-responders will not be able to reach them while Michael smashes into the coast.
"If you decide to stay in your home and a tree falls on your house or the storm surge catches you and you're now calling for help, there's no one that can respond to help you," Mr Morgan said at a news conference.
The entire state of Alabama is under an emergency declaration, and governor Kay Ivey said she fears widespread power outages and other problems. Forecasters warned spin-off tornadoes would also be a threat.
With the storm next entering the eastern part of the Gulf of Mexico, which has warm water and favourable atmospheric conditions, "there is a real possibility that Michael will strengthen to a major hurricane before landfall", said Robbie Berg, a hurricane specialist at the Miami-based storm forecasting hub.