Pope Francis, on a novel ecumenical peace mission to the world's youngest country, warned South Sudan's political leaders on Friday that history will judge them harshly if they continue to drag their feet implementing a 2018 peace accord.
Accompanying him to the overwhelmingly Christian country were the Archbishop of Canterbury, Justin Welby, and the Moderator of the General Assembly of the Church of Scotland, the Rt Rev Iain Greenshields.
They hope to cast a spotlight on what Francis has called a "forgotten crisis".
South Sudan gained independence from the majority Muslim Sudan in 2011, but has been beset by civil war and conflict.
Thousands of people ululated and sang in 35.5C heat as President Salva Kiir greeted the religious leaders at the airport in the capital, Juba.
Francis' motorcade route was lined with Christians, Muslims and traditional dancers waving Vatican, South Sudanese and British flags.
"The pope is closest to God," said Poni Jadalla, 45, as she waited to welcome Francis on the first-ever papal visit to the country.
"Let the pope give us peace so that this country can develop and no more bloodshed."
The Catholic, Anglican and Presbyterian leaders have called for the country's political leaders to put aside their differences and work for the good of their people.
In his first address on South Sudanese soil, Francis addressed former rivals Mr Kiir and deputy Riek Machar, who were gathered in the garden of the presidential palace.
"Future generations will either venerate your names or cancel their memory, based on what you now do," Francis said.
"For just as the Nile leaves its sources to begin its course, so the course of history will leave behind the enemies of peace and bring renown to those who are true peacemakers."
Mr Kiir, Mr Machar and other opposition groups signed the peace agreement in 2018 ending five years of civil war that killed hundreds of thousands of people.
But the deal's provisions, including the formation of a national unified army, remain largely unimplemented.
The delays have forced the postponement of the country's first presidential election for another two years.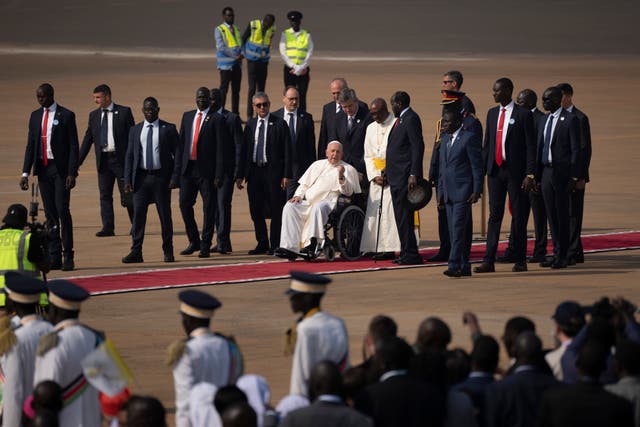 Meanwhile, clashes continue, including attacks this week in the south that killed 27 people.
Combined with flooding last year, the number of internally displaced people has topped two million and the UN has warned that humanitarian needs are soaring.
Francis and Mr Welby first announced plans to visit South Sudan in 2017, but security concerns repeatedly thwarted the trip.
In an effort to move the process forward, Francis presided in 2019 over a joint prayer in the Vatican, and famously got down on hands and knees and kissed the feet of South Sudan's rival leaders, begging them to make peace.
"That gesture of humility did not go in vain," Mr Kiir, a Catholic, told Francis in welcoming him to Juba on Friday.
He recalled that at the time of that extraordinary gesture, Mr Machar was living in exile, but that today the two of them "are seated here, working collectively to implement" the provisions of the accord.
Calling Francis' visit "historic", Mr Kiir publicly committed to the government returning to talks, suspended last year, with opposition groups that did not sign the peace deal.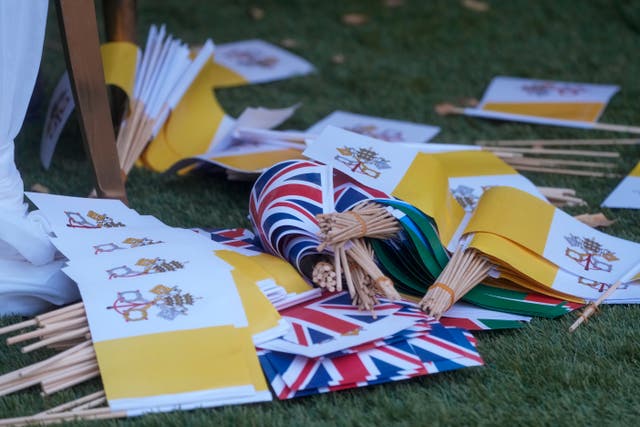 In urging peace, Francis used the Italian exhortation "Basta!" (Enough!), saying: "Enough bloodshed. Enough conflicts. Enough violence and mutual recriminations about who is responsible for it. Enough leaving your people athirst for peace.
"Leave the time of war behind and let a time of peace dawn!"
He called for an end to corruption, and for particular attention to be paid to women and to involving them in decision-making.
"Anyone who commits an act of violence towards a woman commits it towards God," Francis said.
The UN Commission on Human Rights in South Sudan has reported that "widespread rape" was being used as a weapon by armed groups across the country.
It expressed shock at interviewees describing "staggeringly brutal and prolonged gang rapes perpetrated against them by multiple men, often while their husbands, parents or children were forced to watch, helpless to intervene".
Additionally, the United Nations warned in November that some 9.4 million people out of a population of 12.4 million would need humanitarian aid and protection this year, a half million more than in 2022.
It cited violence, constraints on access by aid groups, and climate conditions including flooding and drought.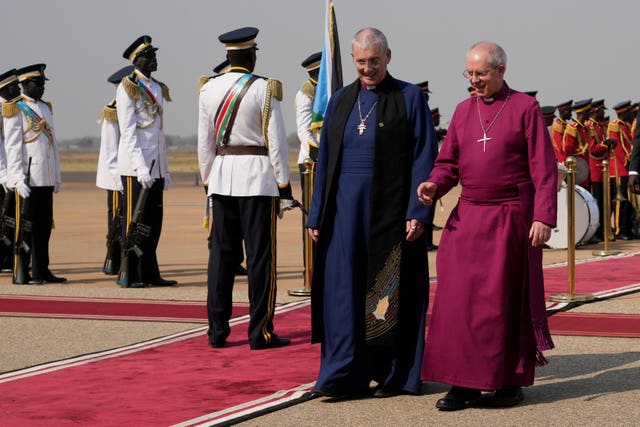 At the same time, the UN has warned that funding for increased aid has dwindled, as donors redirect money to Ukraine and other crises.
Mr Welby acknowledged the donor fatigue and said international organisations were doing their best but met "strong opposition" on the ground.
"When I remember the commitments made back in 2019, I am saddened that this is what I see and hear," he said in remarks to Mr Kiir and Mr Machar.
The fighting that killed at least 27 people in Central Equatoria state's Kajo-keji this week demonstrated the simmering violence in communities sometimes awash with arms and ethnic tensions in one of the world's poorest countries.
It pitted cattle herders against other residents, said county commissioner Phanuel Dumo.
The South Sudan Red Cross said four of its volunteers were among the dead, "picked from their houses together with community members and callously killed".
It said others were taken from water-distribution points and "killed in groups".