Harvey Elliott believes the family feel which surrounds Jurgen Klopp's squad is making the transition to Liverpool 2.0 as smooth as possible.
Summer signings Dominik Szoboszlai and Alexis Mac Allister have slotted seamlessly into their roles as first-choice midfielders after an unexpectedly larger-than-expected overhaul of the engine room.
It was evident new blood was required after last season's disappointing performance but while the departures of Naby Keita, James Milner and Alex Oxlade-Chamberlain were anticipated those of Fabinho and Jordan Henderson were not.
The arrival of four replacements, Wataru Endo and Ryan Gravenberch the two others, could have led to a difficult settling in period but instead the team has displayed remarkable resilience so far this season as they have had to come from behind in four of their six fixtures.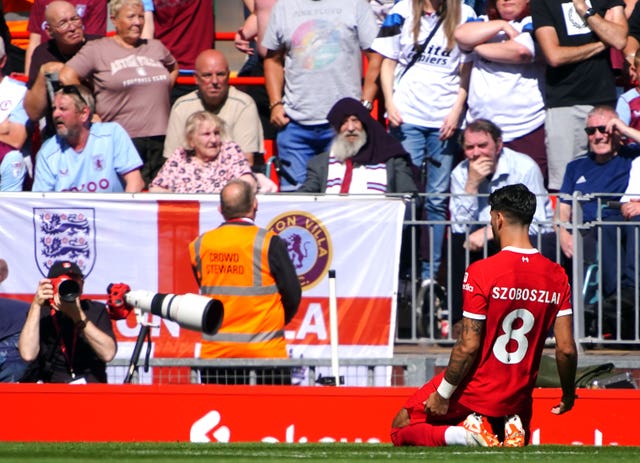 Elliott, himself trying to gain a foothold in midfield, believes the way the squad has gelled together has played a big part.
"It is a team at the end of the day and the quicker we become a team and have those relationships with one another and become a family then the better and more successful we will be," he said ahead of Sunday's visit of West Ham, where Liverpool will look to make it five successive Premier League victories.
"We just need to keep being a team, keep mixing among each other, keep learning off each other and have those relationships we want because it helps on the pitch and it works on the pitch.
"The quicker and earlier we can do that the best possible outcome we will have. Everyone takes responsibility: if someone is feeling left out you go sit with them or call them over.
"It's part of our policy: no-one eats alone, no-one is alone in the changing room or when we go for walks. We do everything as a team and it reflects on the pitch.
"This season feels different, the hunger and desire, and we just need to keep putting in these performances and keep coming away with three points."
Incredibly, the 20-year-old was Liverpool's senior midfielder in terms of club appearances in the Europa League victory over LASK as he lined up alongside Endo and Gravenberch.
But he admits he is still learning his trade and knows he can only benefit from the atmosphere which has been generated and playing alongside the likes of World Cup-winner Mac Allister.
"It's a tough one to get my head around still being so young but we all need to play our part," Elliott said.
"We want to step up this season and that's exactly what I'm trying to do each and every game. I'm trying to put in the performances and put the hard work in for the team and help others around me.
"I am just happy to play anywhere and give it my best shot. (Against LASK) I was right mid, left mid and right centre mid as well so I definitely need to work on that versatility in my game.
"Each and every game I play I need to accept the challenge and accept where I am going to be playing and just go out and enjoy my football.
"Everyone in the team has achieved great things and you want to play a part and to have these world-class players around me and high-profile players that have won loads of trophies and competitions is a dream come true to be learning off them.
"I try to allow them to learn off me if there is anything they need to learn but at the end of the day to be playing among them and be around them is unbelievable and I'm so happy to be here and to put on a shirt and go out and play."