Henry Arundell was praised by captain Owen Farrell for delivering a complete performance after the England wing starred in a 71-0 rout of Chile that offers clear sight of the World Cup quarter-finals.
Arundell crossed five times at Stade Pierre-Mauroy to equal the record for the number of tries scored in a match by an Englishman and was duly recognised with the man of the match award.
While the 20-year-old wing starred on his World Cup debut through his clinical finishing, it was the unseen, unglamorous work that caught Farrell's eye.
"Everybody knows what talent Henry's got. He's shown it before this game," Farrell said.
"He's shown it for London Irish and he showed it when he got his first touch in international rugby against Australia last year.
"A big thing that Henry showed against Chile was that he got after everything in between. He didn't just finish tries. He got balls back in the air, he chased hard and worked hard for the team.
"Ultimately, he got his rewards off the back of that. He does what he does unbelievably well."
England amassed 11 tries against the weakest team in Pool D as their attacking game exploded into life, inspired by Marcus Smith's lively contribution in his first start at full-back.
Smith scored two tries, including a superb solo effort, and provided a cutting edge to suggest he could be a long-term option in the position.
"Marcus played really well. The decisions he made, he looked dangerous constantly, as he normally does," Farrell said.
"All I can say is I enjoyed it and I thought he played really well. George Ford added when he came on as well."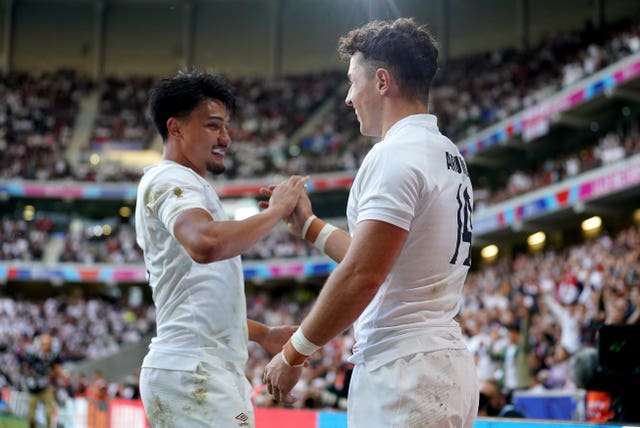 Smith's performance was acclaimed by head coach Steve Borthwick, who brought on Ford for the last half hour as England closed out the game with three fly-halves on the field.
Once the 24-year-old Smith had recovered from butchering two early chances, he dazzled Chile with his speed, footwork and creativity.
"Marcus did a lot of very good things. Playing at 15, there is a different amount of space there compared to playing at 10," Borthwick said.
"The way Marcus took those opportunities, found the space and linked with Henry in particular was a positive. It shows there is a lot of hard work from everybody on the training field.
"There was a lot of exciting talent on the pitch. This squad is packed full of talent and packed full of options. The starting configuration did a really good job after working through a challenging spell.
"To be able to change that during the game and have Owen, George and Marcus on the pitch brought another dimension and certainly gives options for the future."
Chile captain Martin Sigren admitted his World Cup newcomers are a work in progress.
"It's a tough lesson. Four years ago we were getting the same result against Canada and the USA," Sigren said.
"We were losing games against Brazil. Four years later look at us – we're here, so I have to hold on to that.
"We will keep on working. Maybe four years later the results will be different."